Ateliers Chapuis' artistic carpentry workshop restores noble woods in historical monuments and creates custom decorations and works of art, including wood panelling, parquet floors, stairs, and coffered ceilings. Either in the traditional style of the great French centuries or for contemporary interiors, our masters put ancient techniques at the service of any style or era.
Artistic Carpentry through the centuries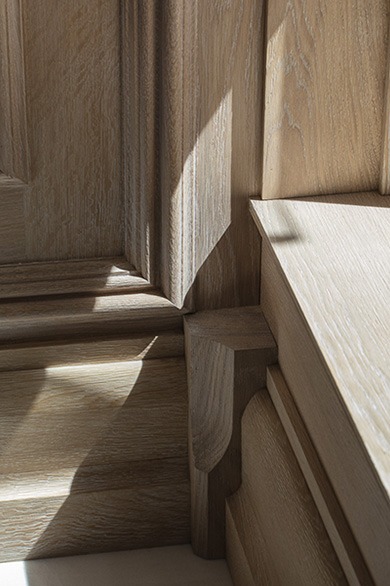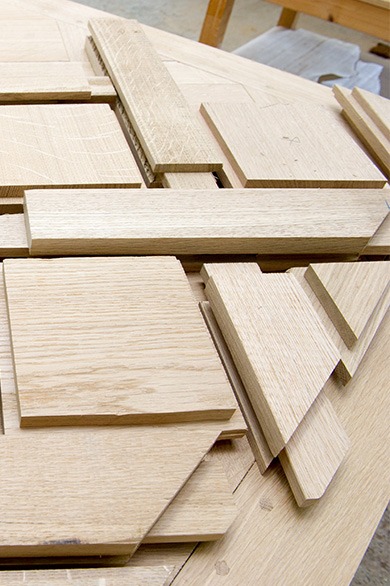 Jean-Baptiste Chapuis and his sons, Cyril and Damien, are the heirs of ancient woodworking techniques, with tenon and mortise joint methods. The experience acquired through three generations and nearly half a century is combined with the know-how inherited by their ancestor Jean-Joseph Chapuis. A renowned master cabinetmaker at the court of Brussels in the 18th Century, he was trained in Paris by one of the best master carpenters of his time.
Knowledge of traditional forms and techniques, along with an understanding of the history of art and the evolution of decorations from the 15th Century to the present day, ensure restorations (wood panelling, parquet) done with the utmost respect for tradition. Thus, Ateliers Chapuis are called to work on major sites of historical monuments. Each master works with their own tools, scissors, plane, ruler, and screed. Each part is cut with a saw and, at each stage, inspected by sight.
This technical and historical knowledge allow them to both reproduce traditional creations and create new decorations following the style of the 17th, 18th, or 19th Century. For classic-style arrangements, they look to reconcile functionality with aesthetics.
For contemporary interior architectures, Ateliers Chapuis strive to find answers to any layout challenge: back doors, safe covers, concealment of electronic hardware, projection or television equipment, hidden movement systems etc. Noble solid woods can be combined with the transparency of glass in the Sylvalux range, giving way for innovative creations.
Ancient techniques guarantee the durability of the creations: in addition to being aesthetically pleasing, the solid wood construction utilizing traditional assemblies allows pieces to stand the test of time.
The woods come from a 20-year-old stock of premium wood. This carpentry wood is naturally dried and comes from sustainably managed forests (PEFC ecolabel): oak, walnut, and lime from the forest of Tronçais, Sarthe, Burgundy, and Jura.