For the creation and design of new structures or for the restoration of ancient listed structures, Ateliers Jean-Baptiste Chapuis' design office coordinates and supports each project based on the instructions of the project owner and the project manager. From pre-study to implementation, our expertise guarantees that results meet the needs and desires of our customers for projects of all sorts and styles: traditional, classic, or modern.
The design office, nerve centre of the workshops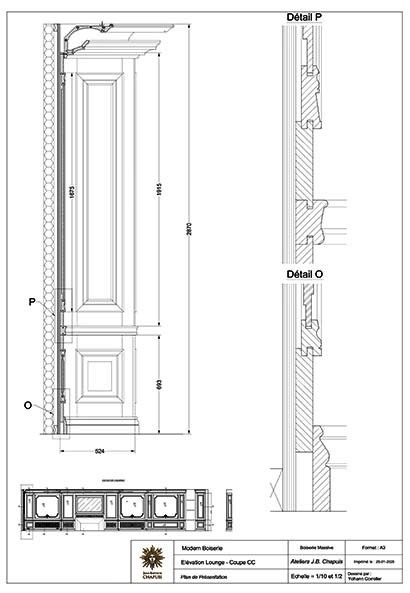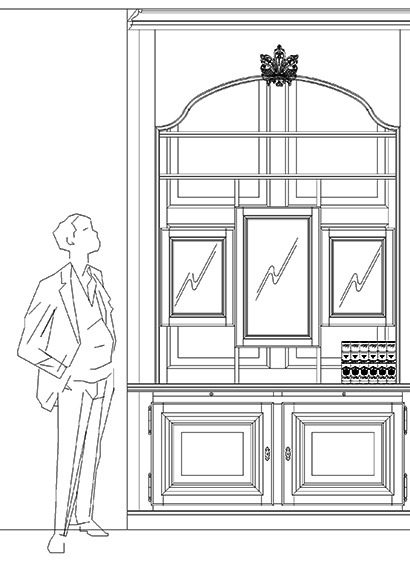 During the site preparation phase, Ateliers Chapuis' teams work on-site to carry out all necessary readings. This study is completed with photographs, whether for a creation or a restoration.
The design office defines the intervention protocols, the Project Documentation Plans, and all the graphic documents necessary for a smooth implementation on site. Where applicable, the design office also provides the plans to be submitted to the Chief Architect of Historic Monuments.
The preparation for a restoration consists of:
• Mapping of site constraints
• Sanitary assessments of the existing structure
• Photographic documentation
• Layout in order to identify elements to be replaced from those to be restored
• Precise records of the existing structures
The on-site survey is carried out using a 3D scanner. The design office formats the data to be used in a CAD software.
The design office includes many workstations dedicated to drawing (CAD) which are connected to the production workshops, from where it is possible to consult the ongoing projects. The effective communication between the design office and the workshops guarantees the operations run smoothly.
As part of a restoration, Ateliers Chapuis carry out in-depth studies and archaeological analyses. Analyses of the construction technique and nature of the wood, traces and signs to establish age, traces of tooling, bonding, and assembly methods, or other materials.
The design office creates concept plans to finalize the artistic and technical aspects before developing execution plans and starting production. It provides all the documents necessary for understanding the expected outcome for review and validation. Once the project has been validated, the execution documentation is finalized including plans, debit cards, detail books, etc.
The full documentation is then sent to the masters who will work on-site and in the workshop.