Having a sculpture workshop within the Ateliers Chapuis provides a space for collaboration and coordination between the different woodworking trades. Both to create and to restore, our sculptors use finesse in ornamentation. They take part in the different stages of sketching, drawing, tanning, roughing, shaping, and finishing.
Ornamental sculpture – The art of nuance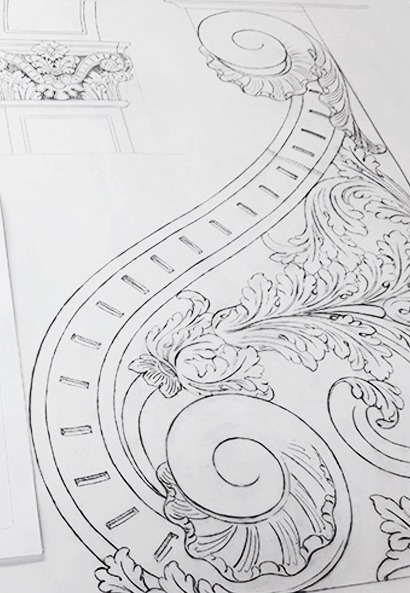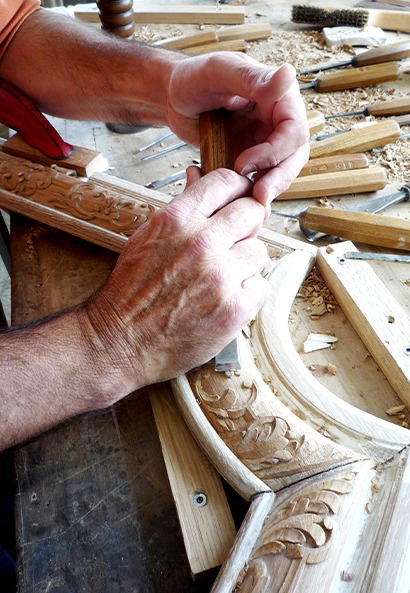 Cyril Chapuis, Artistic Director, master carpenter cabinetmaker of duty, and ornamental sculptor, coordinates a passionate team of master sculptors, including a Meilleur Ouvrier de France award-winner.
The integration of different disciplines such as sculpture, carpentry, and cabinetmaking within the same workshops allows greater freedom and stronger collaboration. Projects benefit from this in terms of planning and consistency, producing optimal results. It also reduces potential costs and risks associated with the transport of parts.
The sculptures are sketched, cut, and finished entirely within the Ateliers Chapuis by hand following ancestral techniques utilizing traditional tools such as gouges, clasps, and scissors.
During restorations, the sculpted decorative elements are taken from the models in place and worked on by hand to maintain unity and consistency with the existing piece. Utilizing tracing paper, the sculptor creates a grey pencil drawing of the sculpted decors to be recreated.
The decorative elements are then carved, most often in solid wood (for antique wood panels), from massive pieces provided by the carpentry workshop and whose volume is suitable for the future sculpture. The splicing is left to the sculptor in order to obtain optimal quality.
In the creation of each particular request, the sculpted decorative elements are all custom-made and unique. The tracing paper drawing is also executed by hand by the artist. Once the drawings are done, a modelling of the sculpted elements are made to determine its dimensions and to visualize how light interacts with the reliefs of the sculpture.