From artistic cabinetmaking to contemporary creations: a family history
The Jean-Baptiste Chapuis Ateliers are the embodiment of a love for wood that has been in the family for over two centuries.
The Golden Age of Cabinetmaking
Born in 1765, Jean-Joseph Chapuis left Savoy with his cousin for Paris to apprentice with renowned master carpenter Georges Jacob, the "Supplier of Roy's Furniture". Having obtained his degree in the art of cabinetmaking, which enabled him to use a stamp, he set up his workshop in Brussels around 1795. He designed many pieces of furniture utilizing combinations and mechanisms for the Court, receiving the nickname "mechanic cabinetmaker". He now has works displayed in the Royal Museums of Art and History in Brussels and the Charlier Museum in Saint-Josse-ten-Noode. Jean-Joseph Chapuis, with his "fortune made", stopped activities in 1830, and lived until the age of 99.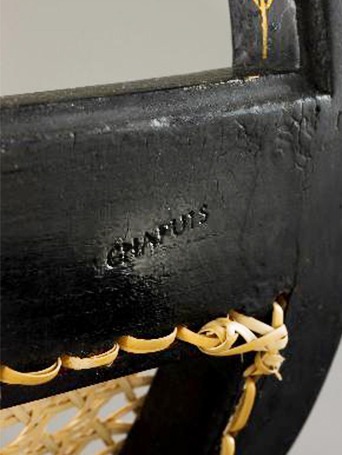 Ateliers Chapuis: 21st Century Cabinetmaking
Seven generations later, Jean-Baptiste Chapuis picked up the torch and the tools of his ancestors. Born in 1951, he developed a passion for woodworking very early on, as fascinated by antique furniture present in his family as by the construction of wooden boats.
After enrolling at the Saint Nicolas school, on Vaugirard street in Paris, his calling for art furniture was confirmed. There he acquired traditional carpentry and cabinetmaking techniques, then devoted the ten years following his training to perfecting his knowledge of cabinetmaking and art history. From the national library and the Forney library, where he spent many hours, to numerous exchanges with art furniture professionals, his expertise allowed him to stand out and spend 3 years as a trainer for auctioneers at the Drouot Hotel.
In 1979, he created the Jean-Baptiste Chapuis Ateliers in the Gulf of Morbihan in Brittany, France. Two of his three sons joined him in this adventure:
Damien Chapuis
He currently runs the family business. An engineer graduated from ESTP, an internationally recognized school for building and sustainable construction, he joined Ateliers Chapuis after studying international trade and art history. He oversees the company's commercial and strategic development.
Cyril Chapuis
Technical and Artistic Director, he became interested in wood and traditional construction very early on. After starting his apprenticeship in the family business, he left for the Tour de France. A silver medallist in the regional competition for "best apprentices in France", he became a master cabinetmaker of Le Devoir before eventually joining the Jean-Baptiste Chapuis Atleiers in 2018 with the same passion for decoration and technical complexity.

Around wood: a workshop and much expertise
Since its creation, Ateliers Chapuis have received numerous distinctions, including the Silver Medal from the Arts-Sciences-Letters Academic Society (1989) and the National Artisan Trophy from the Chamber of Trades (2013).
The Living Heritage Company title, received in 2007, recognizes their journey and their long-standing heritage, as well as the capacity for innovation and rare, cutting-edge know-how that has contributed to their notoriety.
Ateliers Chapuis brings together in one place three complementary practices around the restoration and creation of wooden works and furniture:
• a cabinetmaking workshop,
• an artistic carpentry and ornamental sculpture workshop, and
• a wood gilding workshop
In addition to major restoration projects, Ateliers Chapuis create antique-style decorations and furniture while also working to take cabinetry and artistic carpentry to the next level. Resolutely contemporary design concepts and innovative techniques emerge within the workshops and are integrated into the most ambitious development projects. The Sylvalux technique, a combination of solid wood and transparent glass, widens the possibilities of aesthetics, shapes, and colours.